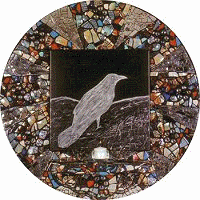 Ward Melnikoff has been drawing, painting and working with ceramics since childhood. In his early teens, Ward developed an interest in biology, where he first became fascinated with the planktonic micro-organisms called "Radiolaria". Ward further developed his passion for art making while studying biology and performance art at U.C. San Diego. Ward then attended California Institute of the Arts, in Valencia, completing his Bachelors of Fine Arts in painting in 1985.

In 1994, Ward renewed his early interest in ceramic painting and began producing portrait and abstract art tiles. Several years later, artist Dean Cameron began creating mosaic settings around Ward's tiles. Inspired by Dean's mosaics, Ward began creating mosaics on his own. Over the years, Ward has shown his work in the Southern California area. Including, The Tower Gallery, in Sherman Oaks and the Orlando Gallery in Tarzana. Ward currently shows his mosaics and tiles at the Town Center Gallery, in Valencia.





Summary: These three watches are
rolex watches
all new models this year, whether it is from the
replica watches
appearance or performance and even price, are very cost-effective. At present, these three watches have been
replica watch
listed one after another. Interested friends may
rolex watches swiss
wish to try out the store.